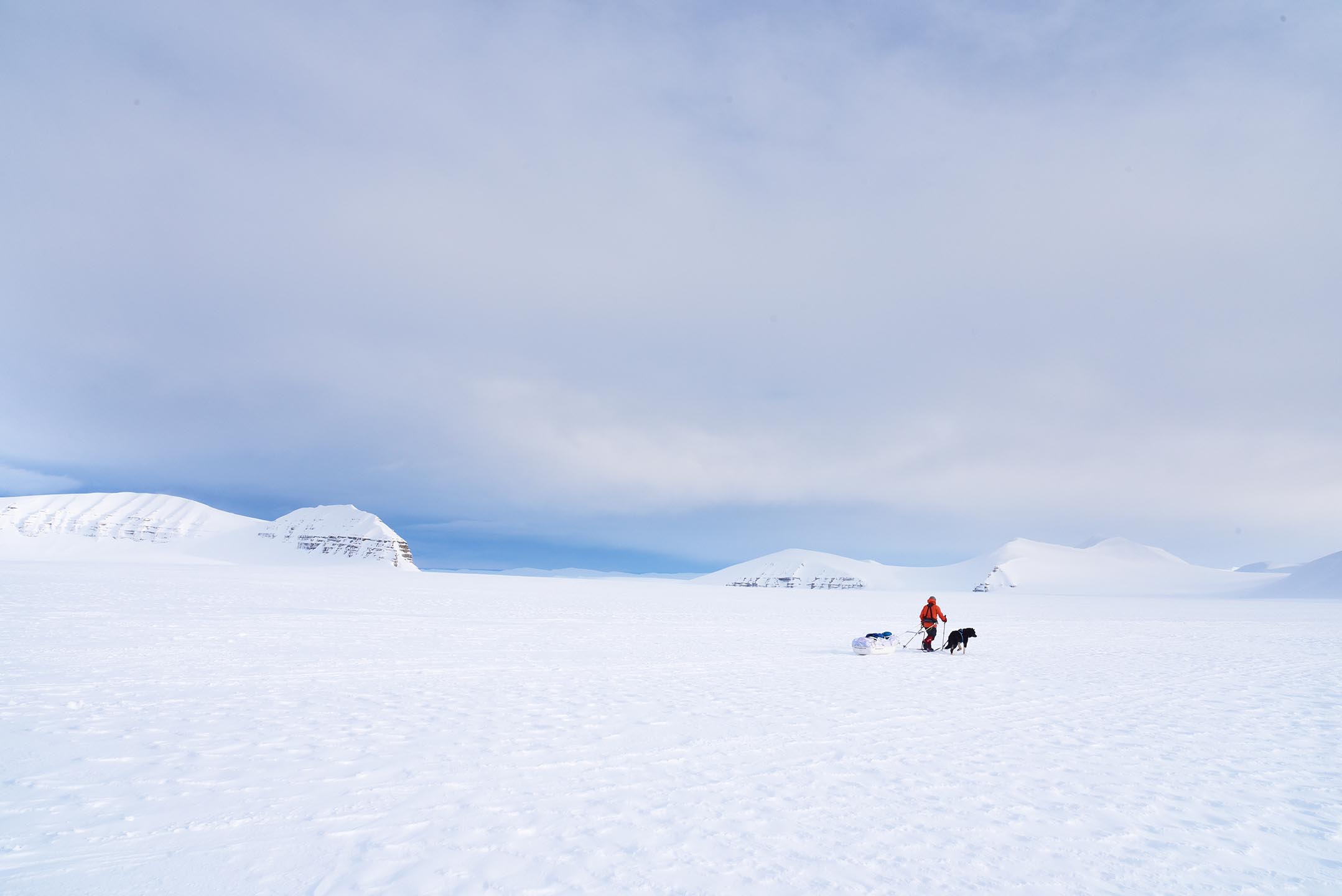 For the very first time that I put my foot on Svalbard I fell in love. So, it was an easy decision to have Spitsbergen as a destination for my training trip. Also, the climate at Svalbard and the big glaciers are similar to Antarctica. And I had a very good excuse to travel to these arctic islands. This time I did not go solo. I went together with a friend of a friend, called Ellinor, that I had met once before. We where also going to bring a couple of dogs with us. I had thought about doing a solo trip at Svalbard but because of the polar bears I was not very keen to lie in the tent all alone and worry about bears.
In the middle of the Easter I landed in Longyearbyen together with Trude, who is filming my preparations and training. Me and Ellinor had a few days to get to know each other, pack it all together and get ready before getting dropped off with snowmobiles. It was pretty hectic days and a lot of bits and pieces had to get organized in the last minute. Our to-do-lists got ticked off and our pulkas got filled up with clothes, food, tent, ropes, crisps and all.
Finally we where ready to leave the base town of Longyearbyen and drive eleven hours up to the very north, Verlegenhuken. The dogs and us were not the only ones who had out mind on a long trip. There were two other groups that started the same day. It was all girls and these girls were doing the hardcore trip to ski the entire length of Spitsbergen from north to south. Me and Ellinor where planning to do half of this trip, but to chose a slightly different route.
The first days we took it easy to adjust our bodies to be pulling the pulkas. There where a lot of snow which made the hauling a lot heavier. We had the dog to help us. But sometimes I think they where more of a hassle than help. My helper Tiusku were very strong. When he was pulling that is. He was a bit of an on and off dog. When he pulled he did not really pull very even. But he did help me to get up some heavy hills. And both of the dogs where excellent company. Except from helping us with the load, the dogs task was to look out for polar bears during the night. When you are only two people on the snow it is too hard to keep night watches.
We knew that it was in the start of the trip, close to the coast, that it was high risk to meet polar bears. At our third day we spotted a bear that saw us as well. He was disturbed at his spot and started to wander away. Luckily he was not very interested in us. It was a pretty cool thing to see this big animal move across the landscape.
Me and Ellinor choose to ski through Atomfjellen. It ment that we had to climb some steeper passes. The surroundings in Atomfjellen where amazing. The alpine mountains made me wish I had different type of skis. So, next time! The steep passes forced us to unload half of our stuff and hike up several times to be able to haul all our equipment to the other side. When we finally had manage the steeper parts we felt pretty happy with ourselves.
We where so lucky and had good visibility during most of our trip. The landscape at Svalbard was fantastic with it's wide valleys, large glaciers, fjords and mountains. All in white. The clear weather made it very cold. We had a very sucessful trip, except for a small accident in the sleeping bag with my new pee funnel. Ooops! Me and Ellinor worked well as a team and the dogs where great company. This was a real boost for my South Pole confidence. After being able to pull the heavy pulka through deep snow and steep uphills it feels good for the grand trip ahead. When 14 days had pass in Svalbard we had reached our final point and I realized that I did not want it to end. It is good to know that I will be out again in the end of the year. And that time I will be out much, much, much longer!